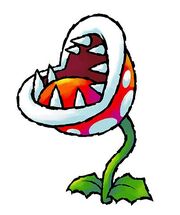 Piranha Plants (also known as Piranhas, misspelled as pirana plants in early manuals) are large, triffid-like plants encountered throughout the Mario series. They are carnivores and are seemingly based-off Venus Flytraps, eating anything that approaches them.
The head of a Piranha Plant is most commonly either red or green with multiple other colors. Originally, Piranha Plants were found exclusively in pipes, either darting-out and biting anything near or remaining still and spitting fireballs. Currently, Piranha Plants can be found both in and out of pipes, and their fire-breathing ability is rarely used.
Gallery
Community content is available under
CC-BY-SA
unless otherwise noted.