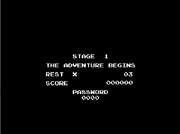 As a throwback to older games uses password save system, the HTFA games also use this feature, though the passwords are more or less used for instant access to any level once the player knows of such password.
This feature is introduced in HTFA 2 and is applied until HTFA 5. HTFA GB is the only later HTFA game to not use any kind of saving feature, not even passwords.
Password list
Edit
Spoiler warning!
This article contains hidden in-game information. Players are encouraged to find those out themselves before checking this article in detail.
Happy Tree Friends Adventures 2
The Adventure Begins: 0000
Dark Lava Cave: 3524
Night Desert: 7456
Underwater Road: 8932
Dark Land: 5680
Bowser's Castle: 4969
Space Road: 4609
Bowser's Spaceship: 2590
Happy Tree Friends Adventures 4
The Start of the Adventure: 0000
Lemmy's Crazy Fortress: 9638
Sky Hills: 6164
Jungle and Water Surfing: 2767
The Sweet Candy Land: 3659
Swimming Under the Bridge: 6581
Dark Moai Magma Ruins: 3195
Bowser's Space Colony: 7506
Happy Tree Friends Adventures 5
Happy Tree Kingdom: xxxx
Aqua Kingdom: 6308
Desert Kingdom: 9142
Jungle Kingdom: 7620
Ice Kingdom: 9216
Dream Kingdom: 3195
Bowser's Kingdom: 6392
Happy Tree Friends Origins
Stage 0: xxxx (written as ???? in-game)
Cave of Fire: 9514
Sunny Beach: 7583
Desert of Koopa: 2931
Ghost Cave: 6906
Volcanic Jungle: 3983
The Volcano: 9132
Bowser's Final Empire: 3749
While the first level of HTF Origins (Happy Green Land) has a placeholder password like other first levels in every other HTFA games with password feature, typing said placeholder password will instead take the player to Stage 0 (the one where the player can meet Neena and Tacho before leaving and there are no hazards and enemies at all) since they share the same password.